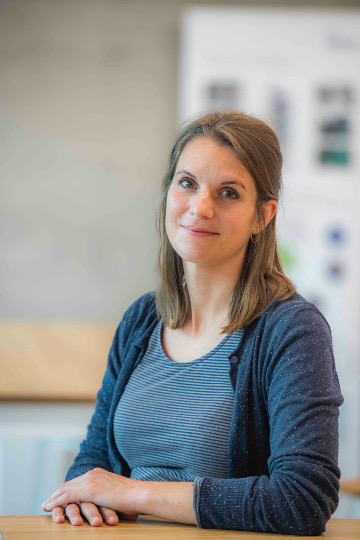 Stephanie is also co-chair for the 4th International Conference on Evolving Cities to be held in Southampton, UK from 12th to 14th September 2023. For more information see https://evolvingcities.org
Stephanie Gauthier is an Associate Professor in Energy and Buildings and the Admission Tutor for Civil Engineering within the Faculty of Engineering and Physical Sciences.
Having graduated in Architecture from the University of Paris Val de Seine, I completed my MSc in Environmental Design and Engineering and my PhD in Energy and the Built Environment at University College London. Having completed my PGCert in Academic Practice at the University of Southampton, I am a fellow of the Higher Education Academy.
Prior to my MSc, I worked for over eight years in consultancy (Arup, HOK, Atkins, ADPi and AREP), mostly focused in buildings and infrastructure. As an architect and project manager in multi-disciplinary design teams, I collaborated on schemes in Abu Dhabi, UK, France and China; including the Oriental Art Center in Shanghai, the King Alfred Development in association with Gehry Partners, BSkyB broadcast center in London and Abu Dhabi National Stadium.
After my PhD, I was a research associate at the UCL Energy Institute. Part of Cisco Future Cities project, my research focused on demand-side response from commercial buildings.
Research Areas
My research focuses on energy demand, specifically on the thermal performance of buildings, occupants' behaviour modelling and human thermal comfort. My research themes include:
– Energy demand
– Sustainable cities
– Built environment
– Behaviour change
– Human wellbeing
– Thermal comfort
As a Co-Investigator, I am currently working on a range of research projects addressing fuel poverty, social care, low carbon technologies uptake in UK homes and the trial of technologies in district heating networks in Europe.
These projects have a range of funding agencies, including Innovate UK, the Department for Business, Energy and Industrial Strategy, the Engineering and Physical Sciences Research Council and the EU H2020 programme.
Responsibilites
Admission Tutor for Civil Engineering
As admission tutor, I oversee the admission process, including helping to organise outreach events and visit days, reviewing applications, coordinating the clearing process and leasing with the leadership on admissions policies.
 Personal Academic Tutor
As personal academic tutor, I help my first year Civil Engineering tutees in their transition as they settle into University. I also give one-to-one support and advice to all my tutees throughout their time at the University.
 Industrial Placement Year Advisor (FEEG3009)
As placement advisor, I am the main point of contact with the University for the students and the employers during the placement year. The Industrial Placement Year takes place between the second and third year of our Civil Engineering programs.
 Postgraduate Student Supervision
I have supervised a large number of UG/PGT students' projects with topics linked to my research themes, including building energy performance, occupants' behaviour modelling, wellbeing, fuel poverty and thermal comfort.
I am currently supervising two PhD projects:
Victoria Aragon, PhD Engineering & Environment (Link: v.aragon@soton.ac.uk)
Samuel Wong, PhD Electronic & Electrical Engineering (Link: scbw1g19@soton.ac.uk)
Royal Institute of Chartered Architect (RIBA)
As a chartered architect, I am an active member of the RIBA regional group on the Isle of Wight. I have been judging the group's annual design award for seven years.
Chartered Institution of Building Services Engineers (CIBSE)
As an affiliate, I am a member of the energy performance group and the building simulation group.
Higher Education Academy (HEA)
Having completed my Postgraduate Certificate (PGCert) in Academic Practice at the University of Southampton, I am a fellow of the Higher Education Academy.
As an ambassador, I volunteer in schools to help bring STEM subjects to life trough workshop and demonstrate the value of them in careers.
Teaching
Data Analysis & Experimental Methods for Civil and Environmental Engineering (FEEG6025)
Module Lead and Lecturer
This MSc module introduces research study design and data analysis tools to engineers. The statistical tools comprise of descriptive and exploratory data analysis, statistical inference and modelling including machine learning.
Climate Change, Energy and Settlements (CENV6147)
Lecturer
This MSc module focuses on the relationships between settlements, resources, climate and energy through history. Building on this knowledge, students develop ideas and concepts towards sustainable buildings, lifestyles and resources (including renewal energy technologies).
Climate Design of Buildings and Cities (CENV6145)
Lecturer
This MSc module strives to enable students to address climatic building design and develop the sustainable urban concepts required to achieve the significant carbon reductions required in the future.
Energy Performance Assessment of Buildings (CENV6148)
Lecturer
This Year 4 Civil Engineering Module and MSc module gives an overview of the policy issues, various planning aids and assessment methods available to quantify energy efficiency and sustainability in buildings.
Part III Individual Project (FEEG3003)
Project supervisor
The third-year individual project gives students the opportunity to gain details knowledge and practical experience in a focused area of Engineering. The project will bring together many of the concepts learnt over the first two years of the course as well as the knowledge and skills learnt during Year 3.
MSc Project (FEEG6012)
Project supervisor
These independent, original and critical research projects explore in depth some aspect the students' specialist subject area. The topic of the dissertation may relate to the supervisors' research.
Before joining the University of Southampton, I developed and taught two MSc modules at University College London. Both modules were part of the MSc in Environmental Design and Engineering, the first one focused on 'Methods of Environmental Analysis', and the second on the 'Principles of Sustainable Housing Design'. I have also contributed to a number of MSc and MRes modules as a guest lecturer and design project tutor, and have supervised a number of postgraduate students' dissertations.
Contact
Telephone: (023) 8059 2174
Email: S.Gauthier@soton.ac.uk
Room Number: 178/4003
Boldrewood Innovation Campus
University of Southampton
Highfield
Southampton
SO16 7QF