The European Wave and Tidal Energy Conference (EWTEC) series are international, technical and scientific conferences, focussing on renewable marine energy – wave and tidal – which are derived from the water column in the ocean. EWTEC provides a biennial forum for those at the forefront of research and technology development in the marine energy sector where they meet, interact, present their latest knowledge, debate new ideas and issues pertinent to wave and tidal energy conversion. EWTEC thus provides attendees with an unparalleled forum for knowledge transfer and debate at the cutting edge of marine renewable energy technology. Highly impactful outputs from the conference proceedings are normally selected to be published in the EWTEC's International Marine Energy Journal.
EWTEC 2021 Themes:
Wave / tidal resource characterization.
Wave / tidal device development and testing.
Wave / tidal hydrodynamic modelling.
Grid integration, PTO & control.
Station keeping, moorings and foundations.
Structural mechanics – materials, fatigue, loadings.
Environmental impact and appraisal.
Operations, maintenance and decommissioning.
Economical, social, legal and political aspects of ocean energy.
Conference special issue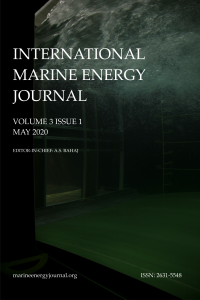 Outstanding papers will be selected and considered for review and publication in the International Marine Energy Journal (IMEJ). The IMEJ (ISSN 2631-5548) is the associated journal of the European Wave and Tidal Energy Conference with all papers given a unique doi number.